Exchanging A Link, This Is Placing A Hypertext Link To Another Site, With That Party's Elegant Counterpart, A Backlink To Your. A Quality Hard Link Increases Clicks, As Popularity And Visibility Of Your Site In Search Engines: Efficient And Free SEO
J E A N - C H R I S T I A N - M I C H E L
THE LINK BETWEEN JOHANN-SEBASTIAN BACH AND TOMORROW'S MUSIC.
MUSIC CAN ONLY GROW RICHER WHEN JEAN-CHRISTIAN MICHEL MEETS THE SACRED MUSIC OF J.-S. Bach.
Formerly inspired by chorals, fugues or J.-S. Bach's pieces of Sacred music for organ, Jean-Christian Michel's transcriptions for clarinet, classifications and compositions, do not in any way betray the spirit of the Cantor of Leipzig :
Conjugating Classical music's golden rules with the magnificence of the expressiveness and pulsation of Jazz, Jean-Christian Michel takes advantage of the practice of the fugue and the counterpoint : and so the clarinettist manages to tastefully merge Jazz and Sacred Music into a personal style.
Today, Jean-Christian Michel's music, always "flowing continuously from the past", asserts itself in a completely original way. Connected to the future and vibrating with impatience for the unknown, it asserts itself as a separate expression.
Thanks to a new orchestration, the great composer has shown how to restore the sound colour of the galaxies : The sublime timbre of his clarinet, surfing within the mysterious volumes of the organ, is enhanced by the innovative accents of computer controlled synthesizers. Jean-Christian Michel thus appears as the leader of a resolutely modern music, with an unexpected, heavenly and enlivening style : "SPATIAL JAZZ & SACRED MUSIC CROSSOVER".
The music of Jean-Christian Michel is heard in the depths of the soul as a music with spatial echo. Moving and catalysing hidden values, it sublimates in phosphorescent brightness, in the heart of this unfathomable intimacy of being, where the Infinite is reflected.
Classical music can no longer ignore Jazz, and Jean-Christian Michel's music, which vibrates between previous and future centuries, connects the cathedrals' memory to the invitations of the future : it weaves a link between J.-S. Bach and 21st century, between the past and the future !
In his concerts - concerts in churches, Laser shows , grand Laser and Fireworks concerts and shows - or during the big world Festivals of Sacred Music, Jean-Christian Michel impresses by the quality of his performance : the wealth of the orchestration shows that everything was thought out with an infinite care. The interpretation is always sensitive and warm. The purity and distinction of the sound provide the digital perfection of a Compact disc with, moreover, the incomparable impact of the live performance !
Conversely, discs,CD, albums or MP3 of the clarinettist transcribe so faithfully the magic atmosphere of the concert, that they almost recreate its aura !
"Ne impedias musicam" ! Do not impede music ! Because Music expresses life, Music is life! This major art gets fascinating sensations or wonderful feelings, can bring comfort in moments of sadness ... In any case, it awakens that other musical light which sleeps inside each of us and which was ignored until we discover it ...
"Classical music", "Jazz", "Sacred Music", and other harmonious styles of spiritual music which offer to everyone, according to their mood and the timing, their marvelous space of freedom, sensitivity and dreams.
It is true that certain purists can enjoy a piece only if it has been well ratified as a part of the "accepted works" : it is most regretable for them. ( Let us note by the way that the music critics are people like everybody else. Their almost-definitive judgment, based often on bookish knowledge or due to political supports, is not necessarily a measure of beauty ! )
So it seems better to stay loyal to musical criteria and your own emotions, than to trust blindly the edicts of the specialists of "C sharp" ! Real enrichment comes from the union of different cultures. To want to taste only the bread of such a chapel reveals an intellectual poverty characteristic of a limited spirit. On the contrary the true musician is an artist, a poet, an open minded free thinker !

Let's abandon sectarianism and be amazed by the exploits of Louis ARMSTRONG as well as John Lewis, produced with due regard to the legacy of Johann Sebastian BACH or MOZART. Let's recognize those who have sincerely dedicated their life to Music... Let's accord our sincere agreement that they carry in them the seeds of future rhythms and chords !
Do not impede music! From now on, let's open wide the doors of a musical universe made out of magnificence and variety !

LISTEN TO :CD, discs, albums and MP3 recorded by Jean-Christian Michel : BACH JAZZ, discs of Jazz and Sacred Music such "Sacred Music", "Crucifixus" or "Ezéchiel's vision"... The concerto of Port Maria... And its latest CD @ranjuez, a completely new version of Aranjuez's concerto...
But better still, come and attend one of the concerts!


NEW ALBUM / CD RELEASE & MP3 DOWNLOAD
THE MUSIC YOU ARE LISTEN TO ON THIS PAGE IS IN THE ALBUM
JEAN-CHRISTIAN MICHEL JQM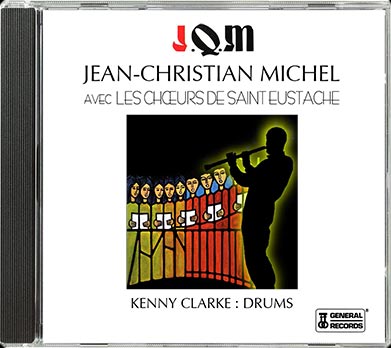 KENNY CLARKE DRUMS & ST EUSTACHE CHOIRS
| | | |
| --- | --- | --- |
| Replay music | Remember to refresh your browser | |
[ ORDER THE CD ] - [ DOWNLOAD MP3 ALBUM ]
JQM / LES CHEMINS DE REPENTANCE
With St Eustache Choirs ; Monique THUS, organ ; Kenny Clarke, drums ; Guy PEDERSEN Doublebass ; Pierre LABADIE, violoncelle ; Miguel JAÈN classical guitar : A great Jean-Christian Michel record halfway between Jazz and classical music !
Les chemins de Repentance (11'10) - Suite en la mineur - La dimension des morts - JQM 1 & 2 - Incantation des Vivants - La Transfiguration.