Knowing The Essential On Classical Music, Jazz, Gospel ; Understanding Differences Between These 3 Music Genres... The Classical Jazz Crossover Designates A Classical Work Refreshed In Jazz, Or A Crossing Of These 2 Styles, As In The Jazz-Sacred Music Fusion From Jean-Christian Michel
CLASSICAL MUSIC, JAZZ, JAZZ CLASSICAL CROSSOVER, GOSPEL
So much has been written about Classical music that we need not spend a long time on the subject. Classical Music is a part of our culture and conceals treasures of the most exceptional beauty.
An erudite music, following well codified rules which are constantly being improved, Classical Music is a written, rigorous music, skilfully built, carefully weighted, dedicated to the composer and leaving relatively little room for interpretation.
The "tension - resolution" which brings its dynamic to the work is obtained by working with dissonances which are perfectly resolved.
The sound, a noble but impersonal material for the composition must be played according to the rules of the conservatoire - pure and straight - and this sobriety can give it an immense grandeur, as in MOZART's Concerto for clarinet.
Classical Music is an agent of the artillery of beauty and is defined as "first-class music", shielded from fashion, and there is a lot of truth in this description.
However let's be honest: notions of beauty vary according to the age and it is necessary to accept that some sublime works are listed in this same catalogue of "Classical music" with some third-rate others which are completely boring. If some composers of genius can take us to the roots of heaven, how many others are only knocking on the doors of purgatory!
Classical Music is rich in masterpieces, but it does not possess a monopoly of magnificence, anymore than Jazz or any other form of musical expression does.
[ Read the large full page on Classical music on the French site ]
Jazz is a form of expression which arose from an original fusion of African and European music. It has brought an unforgettable colour of our century.
Initially inspired by Lutheran choral singing, Jazz - the music of Black Americans - it also integrates the ancestral modes of African music, based on rhythm and timbre.
Whilst it may be unaware of melody and harmonic rules, it is imprinted with a ritual sensuality which instantly communicates its incantatory magic. The changes of the third and seventh notes of the scale - resurgences of the African pentatonic musical system - gave birth to those famous "blue notes" between major and minor and so rich in a poignant and beautiful sadness.
The two main characteristics of Jazz are its swing and expressiveness. These qualities are not reducible to writing and only show themselves in the playing.
- The "swing" uses a rhythm where the weak times of the measure are stressed. But this accentuation is not enough: the tension and relaxation in "swing" arises from a rigorous, but essentially "feline" implementation. In order to better understand this idea, think of a bouncing rubber ball.
- Expressiveness, as its name indicates, aims for a music which is as expressive as possible, so as to wake curiosity, to attract the attention, in brief "to move". It uses all its resources of sound to introduce us to an extremely rich and moving sound universe, unknown to the technique of our conservatoires: vibrato, inflection, glissando, loud or quiet to sound "living" and to instil a fascinating climate of mysterious sensuality.
Because, let us remind ourselves, Jazz is a music of the instant, a mirror of the mood of the musician and his "feeling": In Classical Music one speaks about interpretation, in Jazz of expressiveness...
Contrary to a widely held belief, Jazz can be written down. It remains however essentially a music of improvisation and spontaneous creativity. But written or improvised, it must always answer to these two criteria of which we spoke: swing and expressiveness.
The repertoire of the Jazz begins with the blues, a relatively simple form with its three chords, but absolutely authentic. Blues always speaks of current events : it adapts itself to dozens of styles and free rein to uncountable variations.
"Standards" are adaptations of "songs" or traditional songs, and can be completely transformed by the interpretation.
Finally it has original compositions, which can also be inspired by Classical music or by Sacred music.
A JAZZ BAND HAS TWO SECTIONS
- A melodic section with the brass instruments such as trumpet, trombone etc. and its woodwind, clarinet or saxes.
- A rhythm section with drum kit and percussions which bring the beat, stressing counterpoint and syncopation. An acoustic bass or an electric bass guitar, one or more guitars and keyboards ( piano, organ and synthesiser) bring in the harmonic side. In current music any or all of the instruments can syncopate.
- According to the number of performers, the Jazz Bands go from a trio to a Big Band, with all intermediate sizes.
[ Read the large full page on Jazz music on the French site ]
The blacks are the inventors of the Jazz and remain its greatest pioneers. However a "European Jazz", more technical and sophisticated combining Classical music or Sacred music and American Negro music is a sometimes impressive synthesis.
Numerous experiments of fusion between these different types of music have been attempted. John Lewis's MODERN JAZZ QUARTET with Milt Jackson and Kenny Clarke or Connie KAY, George SHEARING Gerry MULLIGAN, Bill EVANS, Jacques Loussier, CLASSICAL JAZZ QUARTET of Daniel Humair and Guy PEDERSEN and finally Jean-Christian Michel, who benefited from a classical education, have been the initiators of a "third stream" where Jazz and "important" music enter into symbiosis.
The rhythmic interpretation and expressiveness of this erudite music with rich and brilliant harmonies, bring together spiritual intelligence with a force to connect with vital energy …
"Jazz and Classical Music", "BACH JAZZ", "JAZZ BACH", " PLAY BACH", " Jazz and Sacred music " bring to music their new message of original creativity...
[ Read the large full page on Jazz Classical Crossover on the French site ]
GOSPEL : BLACK PEOPLE SACRED MUSIC
It is important not to lose sight of the fact that a good part of the Jazz repertoire was originally inspired by the chorals sung in churches. Certain Jazz musicians even expressed in their art such a mystic tension that one might describe their laments as "blues preached".
From this fact the link between Jazz and Sacred Music appears to be indisputable. This was first evidenced in the spirituals and gospels, but later was further refined by Duke ELLINGTON in the serenity of his concerts of Sacred music, or by the French great composer and clarinettist Jean-Christian Michel. The latter invented a completely new and unique musical style based on a fusion between Jazz and Sacred Music, which marries the requirements of the classic perfection to the vitality and the expressiveness of the Jazz..
[ Read the large full page on Gospel on the French site ]
SPATIAL JAZZ & SACRED MUSIC CROSSOVER BY JEAN-CHRISTIAN MICHEL
AN UNIQUE GREAT COMPOSER
Jean-Christian Michel is a musician of the Essential. Everything is integrated from the very first notes and the Music takes us to an exceptional depth. In a fusion of Jazz and Sacred Music, his new musical concept creates a synthesis between spiritual feelings and primordial instinctive forces.
His creative force has, until now, employed stricter modes than pure Jazz. The great composer simultaneously takes advantage of the beat of Negro music and golden rules of classical composition: the art of the fugue and counterpoint which he has completely mastered bring an internal dynamic to his music in addition to the rhythm … A great musical intelligence and an uncommon architectural sense allow him to create this permanent spring which always privileges musicality.
A BRILLANT ORCHESTRATOR
Jean-Christian Michel possesses an innate gift for orchestration : previously, the delicious union of church organs and clarinet had already brought a new sound. His curiosity quickly urged him to enrich his palette of sounds, to refine the colours of his music with the variety of new sound transparencies.
Today Jean-Christian Michel surrounds himself with computer-controlled synthesisers, adds guitars and percussions to the resonances of the organ and produces a strange universe of undiscovered and magical timbres. An excellent and powerful rhythm section contributes to the group's beat.
CONCERT PERFORMER
Jean-Christian Michel really is a "solar" artist who communicates from the first moment with his audience. The tremendous conviction which drives him, his tenderness and his power exercise a magical power over the crowd. His charisma, magnetism and almost mystic sensitivity bring a magnificent atmosphere to the show.
Clarinettist with a sound recognisable amongst thousand others, Jean-Christian Michel possesses one of the most beautiful clarinet tones known: dimension, warmth, majesty, energy. His technical mastery is irreproachable and his playing allies flow and extreme intensity in the rigorous phrasing of his sound. The breath is a caress and the heat of the interpretations arouses dream and reflection.
Jean-Christian Michel has worked on the classics : J.-S. Bach, but also, RAVEL, DEBUSSY, SATIE, VIERNE, ALAIN … In Jazz, he has played alongside the greats : Duke ELLINGTON, Kenny Clarke, Mezz MEZZROW … In common with all the finest musicians, he makes us feel, during the concerts, such intense feelings that they make us understand how much inspiration and heart are indispensable to music which dreams.

NEW ALBUM / CD RELEASE & MP3 DOWNLOAD
JEAN-CHRISTIAN MICHEL PLAYS JAZZ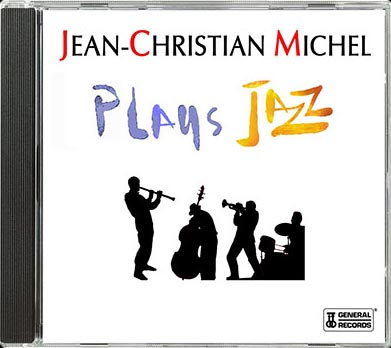 Jean-Christian Michel "PLAYS JAZZ"
| | | |
| --- | --- | --- |
| Play music | Remember to refresh your browser | |
[ ORDER THE CD ] - [ DOWNLOAD THE MP3 ALBUM ]
PLAYS JAZZ
Black & blue - Loveless love - St James infirmary - Joe Turner blues - Careless love - Oriental man - Lonesome blues - Perdido street blues - When the saints go marchin'in - Blues des années 60
VISIT THE PAGE : JEAN-CHRISTIAN MICHEL JAZZMAN (FR)