NOT THE LONDON NEWS REWIEW
Jean-Christian MICHEL : my interest piqued
I gave my brother a strangely annotated French LP for Christmas, covered in Baudelaire quotes. The artist: Jean-Christian MICHEL."At the age of ten, he who would later become a gynaecological surgeon chose the clarinet whilst undertaking a classical education at the conservatoire. It led him first towards Jazz with "all the expressiveness, which takes the audience by the guts and its swing with which it is so interesting to play".
MTV/AKTUEL Jean-Christian MICHEL : Musik, das ist wie Leben, Liebe, Tod (Article of a whole page)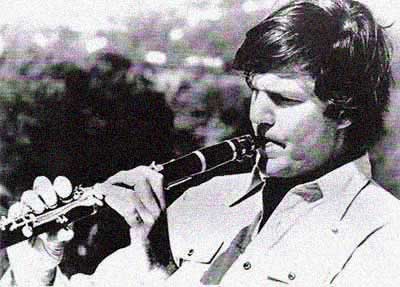 Jean-Christian Michel französische Komponer und Klarinettist"
Der französische Chirurg schuf die "Musique Sacrée" und wurde damit zum Schallplatten-millionar und gefragten Konzert-Musiker. Jetzt gastierte er in de Deutschland. Die Musik von Jean-Christian Michel entgeht irgendeiner Definition: man hört es, und man wird damit getränkt. Sie ist Zauberei, sonores Licht. Sie spricht über den Ursprung und über die Unendlichkeit...
HALLER KREISBLAT

BACH à la MICHEL ging mehr unter die Haut als ehrfurchtsgetränkte Originale
"Jean-Christian MICHEL brought us an evening of élan and dynamism, which not only excited the younger members of the audience, but also delighted the representatives of the older generation.
The packed church had never known such a triumph during " BACH Tage ". "The unending applause threatened to raise the roof. The amazed audience demanded encore after encore... It was a demonstration in honour of BACH, completely extraordinary, electrifying and fascinating.... Whether it was arrangements of BACH or MICHEL's own works overflowing with imagination, the clarinettist treats the music with an infinite sensibility. J.S BACH would certainly have loved it... "
ILLUSTRATED EVENING (Brussels)

"Music of Light" by Jean-Christian MICHEL : "the most original album of the year, which will not leave many people indifferent."
Jean-Christian MICHEL : "Sprache des Herzens"
Jean-Christian MICHEL : "Sprache des Herzens"... (an article of a whole page !) "Er entstaubt die alte Musik, macht sie modern, durchsetzt sie mit Elementen des Jazz, füllt sie mit abendländischen und orientalischen Einflüssen. Seine Musik wirkt sanft, wohlklingend..."
HAMBURGER ABENDBLATT (translated from German)

"The French composer and clarinettist Jean-Christian MICHEL gave his concert to St Michael Kirche in front of more than 2000 people. In truth the abundance of the applause was as unusual in this church as the mass of people who had crammed in, standing at the edges or sitting on the steps of the altar. The clarinettist made his own way in the music which he endowed with a new character, by the conjugation of a jazz-influenced rhythm with harmonies directly inspired by the JS BACH's Sacred music : a meditative universe imprinted with purity and with the life-force.
The interpretations of J.S BACH, PLAY BACH or MICHEL's JAZZ BACH remain faithful to their subject and do not betray the spirit of Cantor of Leipzig. In most of the pieces a sort of solemnity resounds in every note, a sacred and traditional solemnity which transports us from the rigour of daily life to the frontiers of a blissful beauty.
One can only admire the magnificent sound of Jean-Christian MICHEL's clarinet : from a sweet sensitivity to the unreality almost imperceptibly played, MICHEL works its sounds, shakes them and vibrates them, whispers or cries them and has few equals in this art.
But MICHEL is also the composer of the "Vision d'Ezéchiel", an incredible musical intensity, during which, the audience can not refrain from keeping time… The deafening applause was unending in God's house.
The spectators demanded encore after encore by cheering and by stamping their feet and clapping their hands in rhythm : MICHEL and his performers complied with a good and cheerful grace in spite of the obvious fatigue. Such brilliance explains the fascination exercised by Jean-Christian MICHEL on his public …"
DE TELEGRAAPH

Title : "Klarinettist Jean-Christian in Amsterdam : God op de hitparade" ! (and a whole page)